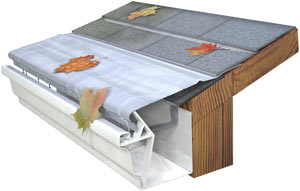 Gutters alone provide valuable protection for your home. But adding Leaf Slugger protection to your gutter system adds significant, additional benefits.
Regular cleaning of your gutters can be onerous and hazardous. Leaf Slugger resolves this problem by providing a barrier between debris and your gutter system – a barrier which stops solid matter while allowing water to pass through unobstructed. Leaf Slugger also prevents snow and ice buildup inside your gutters. Leaf Slugger is easy to install, can be added to your existing gutter system, and blends in with your roof line for a clean, finished look for your home.
Whether as part of a new gutter system, or an add-on to your existing gutter system, Leaf Slugger makes sense, and New London Seamless Gutters can help you. Contact us or request a quote for more information.