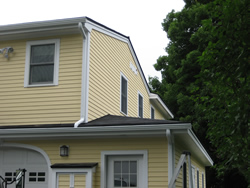 Rain gutters provide an important protection for your home. Water can do incredible damage if not controlled, and properly installed quality gutters keep water flowing off your roof and away from the structure of your home. A mostly invisible part of your house, these unsung heros provide a valuable service by keeping water away from window frames and other openings and away from the exterior treatment of your home. Additionally, gutter protection such as leaf covers and gutter guards, ensure that your gutters can do their job efficiently and without interruption.
With proper care a good quality gutter system can last 20 to 25 years. If you have questions about your gutter system, call New London Seamless Gutters. We can evaluate your current system and provide a free estimate for any work that needs to be done. Your home is a big investment. Having a quality gutter system in place and kept in good repair helps protect that investment.
For more information on gutters and gutter systems, contact us or request a quote today.