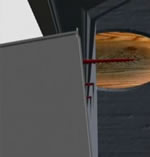 Traditional gutters are all installed in a similar way. Spikes, screws, or nails are inserted through the gutter into the fascia of your home. This approach has a known drawback. The gutters cannot adjust easily to expansion and contraction due to changes in temperature or to pressure brought about by the elements such as wind, rain, and snow. This type of tension on the spike, screw, or nail, brings about gaps between the fascia and gutters allowing for moisture to collect behind. Damage to the fascia is inevitable and is considered a normal cost of gutter maintenance.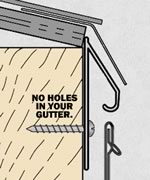 However, today there is a new type of gutter which avoids this problem. Duratrac gutters are affixed to your home by first attaching a bracket to the fascia and then "hooking" the gutters on the bracket. This method means the gutters have freedom of movement with temperature changes and wind and weather. Spikes, nails, and screws stay firmly attached to the fascia and water is kept away from your home.
For information on how New London Seamless Gutters can help you with gutter systems and installation, contact us or request a quote today.
[flv]http://nlseamlessgutters.com/video/dura-truss-consumer.flv[/flv]